Living With A Fox - continued
PART 2 -The story of Lauralee Foxy Man
Foxy entered the breeding shed later than most. We wanted to concentrate on training first before adding this duty to his roster. In his entire career at stud, I believe there were only one or two mares that were not successfully covered and in these cases the mares were well in their 20s. His offspring and the next generations have honoured the old boy well. Many of them have surpassed Foxy's show record. His most famous get includes Trillium Reflection, two time Reserve Champion winner of the Vermont Governor's Cup Road Race ; Trillium Samson, five times OMHC Park Champion, OMHC and CMHA Champion stallion; Trillium Flashdance, multi champion gelding and Trillium Justina, Reserve Champion High Point Western Pleasure. His grand get are reserve national award winners too, including Trillium's Chantilly Lace and Trillium Arioso.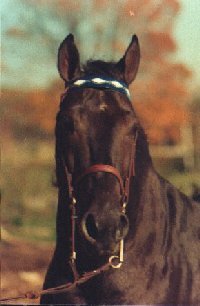 There are so many more passages from his diary of life that I could tell. Foxy has had a remarkable time and has taught us so much. More importantly, he has taught us that a horse is not just a horse. They bring out and nourish our own personalities, strengths and weakness. They accept us as we are and not necessarily who we think we are. They make no judgements, and show us endless patience. As Sarah's father would say in praise of Foxy, "what more can be said about the Morgan, and a stallion at that." The years have been good for us and interesting too as we adapted to living with a Fox!